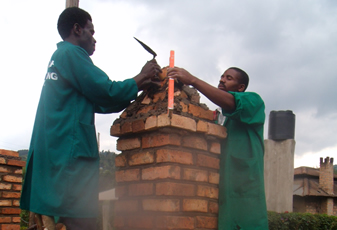 Our mission is to enhance unity, development and ensure facilities of collaborations and networks within Private Vocational Training Institutions and other actors in partnership.
Uganda Association of Private Vocational Institutions – UGAPRIVI
The Uganda Association of Private Vocational Institutions (UGAPRIVI) is an umbrella organization for Private Vocational Training Institutions in Uganda. It was established in the year 1998 and registered as a Non- Governmental Organization in the year 2000 under the NGO Statute 1989, on Registration No. S.5914/3350.
The Uganda Association of Private Vocational Institutions (UGAPRIVI) was formed to improve the quality and the image of private vocational institutions in Uganda, and to strengthen Business, Technical, Vocational Education and Training BTVET sector as a whole. Its main aim is to foster collaboration between private training institutions and to improve, not just the standards of the training provided, but also its relevance for the actual employment market. UGAPRIVI is a national organization with eight (8) regional offices covering all districts of the country. This ensures that poorer and structurally weaker areas are not left out of the initiative.
There are not enough appropriate opportunities for Ugandan youth to learn vocational skills in public BTVET Institutions alone. Against the background of continually increasing numbers of school leavers and the low capacity of Government owned BTVET Institutions, the private BTVET institutions deserve increased attention. The promotion of BTVET and its values is one of the major components of UGAPRIVI's tasks. The Private BTVET institutions are among the most important providers of vocational skills training. Currently the majority of the vocational skills training conducted in Uganda is provided by Private BTVET Institutions.
LOCATION: UGAPRIVI is located on the Plot No 1218 Kisosonkole Road off Kabaka Anjagala Road opposite KCCA Rubaga Division offices.
Latest Updates
Market Intelligence Questionnaire
You are invited to participate in a questionnaire that aims to collect information on how UGAPRIVI is perceived and what expectations member institutions and the public holds for UGAPRIVI.
If you wish to be part of the process of creating a new strategy for UGAPRIVI, please fill out and return the questionnaire to us no later than the 10th of June 2019
---
Mr Masolo Samuel is the  Projects Coordinator of UGAPRIVI and
Mr Richard Nuwagira is the  General Manager beginning with August 2018
---
Registering  as Licensed  Teachers

UGAPRIVI is in collaboration  with the Ministry of Education and Sports to licence the  instructors in the Private Vocational Institutions as Licensed Teachers.
---
Uganda Development Bank Loans. UDB
Uganda Development Bank is partnering with UGAPRIVI to have its members access long term loans  at a low interest rate.  The loans range from  UGX 100 million to 15 billion.  Institutions should begin preparing for this big deal.
Unveiling of the new vocational curriculum
The long awaited vocational curriculum is here!  But what is new in this curriculum? This must the question lingering in the heads of so many people who are paying attention to the urgent need for skills education in the country and region at large.